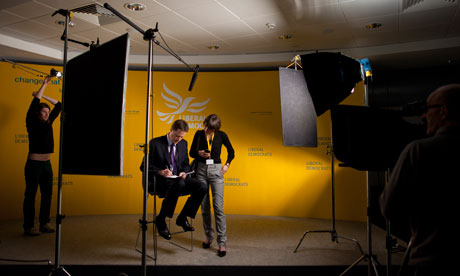 With talks between the Conservatives and the Liberal Democrats entering their third day, new information from the BBC has revealed that senior Lib Dem MPs met with Labour politicians in secret.
It begs the question as to what exactly Nick Clegg is up to. He's in a very difficult position; with the balance of power resting in his hands he's taking his time to figure what's best for him and his party – bugger the stability of our government and economic recovery! Clegg has an opportunity never given to the Lib Dems before and he has to think about whether or not he'll sacrifice his policy on electoral reform (and risk alienating thousands of supporters) to be seen to be doing 'the right thing', or whether he'll jump at Brown's offer for immediate legislation to change the voting system and a promise of a least six cabinet seats for Nick's minions oh sorry…ministers.
He's playing Cameron and Brown off each other, just like he did during the electoral campaign and all through those infamous televised debates. He's got to be very careful what he does here, either decision will certainly cause uproar amongst the public and will loose him the so-called popularity he gained in the month (ironically enough it didn't quite convert to votes though did it?)
Regardless of the outcome, we need government now – that's why we had a bloody election in the first place.
I'll post something less miserable later on…I promise.
Clarke